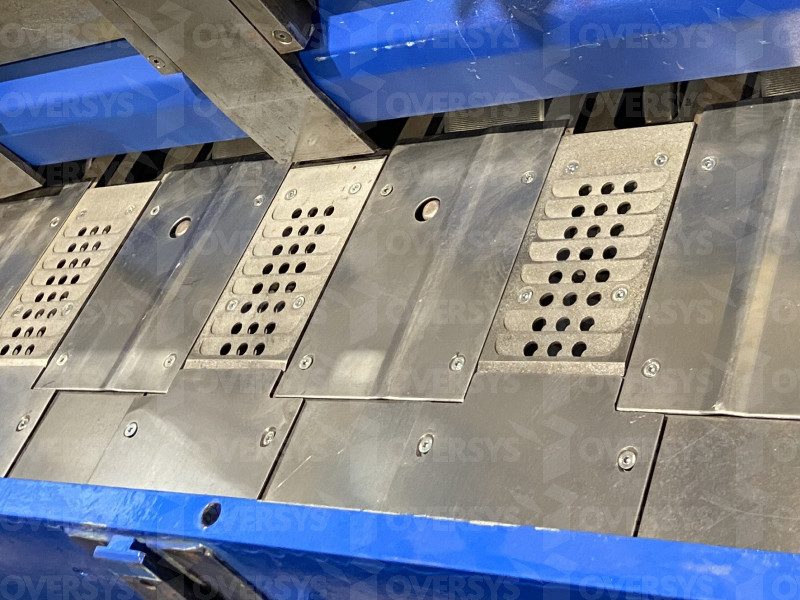 Flexo Folder Gluer
Completely Refurbished 3 Color Emba 240 Flexo Folder Gluer With Rotary Die Cutter
U67231123
Connected
Available 2024-03-16
EUROPE ·
2023
The price only available for registered users
Description
GREAT OPPORTUNITY!
We are excited to introduce the EMBA 240 Flexo Folder Gluer line, which is a 3-color machine with a rotary die cutter. It has been completely refurbished in 2023 by professional technicians and is in excellent condition, with a 1-year warranty for all replaced parts. The line will be available 3 months after the purchase contract is signed.
This line is composed of:

FEEDER
Vacuum feeding system
Side squaring

Left square with pneumatic beater
Right square with motorized positioning

Back stop

Motorized forward-back positioning
Height adjustment motorized
3 PRINTER UNITS
Top printing
New suction belt for sheet transport
Automatic adjustment of register
Rubber wiper rolls and ceramic anilox rolls
New pneumatic pumps Damova SL Boxer 50
Replaced support bearings for plate cylinder holders
Printer No 3- Installed new rubber roll
SLOTTING Section
2 pair of creasing shafts (pre-creasing and creasing)
2 pair of cutting shafts

New cutting knives on the input and output cutter shafts
Automatic adjustment

Automatic tools side positioning
Automatic adjustment of register and height
Waste evacuation system
ROTARY DIE CUTTER
Pair of pull rolls in entrance
Cutting shaft
Automatic adjustment of register
Anvil cylinder with new polyurethane blankets
Waste evacuation system
FOLDER GLUER
Main line motor with shaft transmission
Upper transport arms with belts and suction assisted
Folding arms with motorized side positioning
Container Technics electronic glue unit
COUNTER EJECTOR:
2 stations stacking system
First station with back squaring beater
Transport with belts and top pressuring device for bundle take off
The machine includes a New Central Computer for orders set-up and new Mitsubishi PLC base electronics.
General Improvements (IF YOU NEED FURTHER DETAILS PLEASE ASK FOR THE MACHINE FULL CATALOG):
Comprehensive cleaning, repair, and painting of frames, gearboxes, fenders, and suction ducts

Inspection of protections and safety elements to ensure proper functioning
Overall exterior painting in white (RAL 7035) for sides and cabinets, with interior painting in blue (RAL 5005)
Repair of small items such as cabinet closures and some deformed defenses
Review of the pneumatic system with replacement of damaged elements
Inspection of electrical components, replacing any damaged elements or cables
Thorough review of the general transmission shaft
Compliance with safety regulations for obtaining the CE Certificate
70,000.00 EURO // 76,000 USD set of SPARE PARTS included in the price
1 YEAR WARRANTY for all replaced parts
DETAILED INFORMATION AVAILABLE ON REQUEST
Technical data
| | |
| --- | --- |
| Oversys Reference | U67231123 |
| Format | 2400mm x 1100mm |
| Type | FLEXO FOLDER GLUER |
| Manufacturer | EMBA |
| Model | 240 |
| Year | 2023 |
| Continent | EUROPE |
The shortest distance is the one that does not exist
Personalized attention during the whole process of buying and selling

Instalation and start up specialized internation service

Transport and logistic of machinery, follow-up from place of origin to final destination

Procedure with the complete management of all aspects related to the operation